DBCT is one of two coal export terminals at the Port of Hay Point, located 30 km from the Queensland coastal town of Mackay.
The Port of Hay Point is one of the world's largest coal export ports, handling coal from over 30 mines in the Bowen Basin, Central Queensland—the source of more than 80% of Queensland's coal production.
Ongoing expansions to keep up with global demand for resource and energy commodities brought the capacity of DBCT to 85 mtpa in 2010. This makes the DBCT one of the largest coal loading terminals in the world.
An interim study investigated further expansion to raise capacity to 153 mtpa, but the rest of the study was discontinued.
DBCT is owned by the Queensland Government and leased to Dalrymple Bay Infrastructure Management through a 50 year lease to operate, maintain and develop the terminal (with an option for a further 49 years).
The ports authority for Hay Point Port is the North Queensland Bulk Ports Corporation Ltd, which also manages the ports at Abbot Point, Weipa, Mackay and Maryborough.
We determine the fair and reasonable terms and conditions of access to the Dalrymple Bay Coal Terminal (DBCT). Our role is to:
assess and approve access undertakings
assess and approve amendments
arbitrate access disputes
enforce breaches of access obligations
investigate and monitor prices for ports declared for monopoly prices oversight
assess competitive neutrality.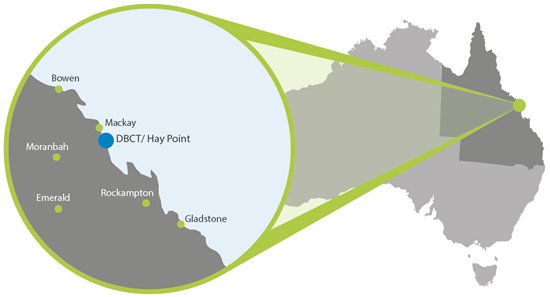 DBCT has been 'declared' a monopoly business activity with market power.
This implies that competition would be enhanced if access is allowed to third parties.
Under the third party access regime in the QCA Act  (part 5) we may assess and approve rules for access to DBCT. These access undertakings remain in force for a set number of years.
Reasonable amendments may be made to the undertaking and submitted to us through a draft amending process.